Our Food Relief working group is building partnerships to source and distribute food to our neighbors, including developing long-term solutions for food self-reliance. As they coordinate with local restaurants, bars, schools, groceries, and markets, the working group is looking for regular participation and assistance to help us provide regular food relief to our community!
Here are a few opportunities to get involved. If you would be able to participate in any of the below, send us an email.
Wednesday, July 1 at 2 pm - Sunnyside & Woodside Mutual Aid will be moving food from one storage facility to another. Everyone who can participate will meet at 2 pm in the courtyard of Sunnyside Reformed Church (at the corner of Skillman Avenue and 48th Street) and your tasks will be further outlined there — a majority of work will consist of loading and unloading cars.
Weekly opportunities:
Cooking on Fridays 4 - 6 pm at Sunnyside Reformed Church.
Meal assembly on Saturdays 10 am - 12 pm at Sunnyside Reformed Church.
Mobile food pantries on Saturdays 1 - 3 pm (see locations below).
Free Food Pantry Saturdays
For food assistance, find us on Saturdays from 1 pm - 3 pm. We will have stations set up at 46th Street-Bliss @ 7 train station; 61st St-Woodside @ 7 train station; and by Woodside Houses @ Broadway & 49th.
No matter your situation - you can get nutritious food!
---
Get Involved
Mutual aid is about fostering reciprocal support and greater connection within our communities. Sunnyside & Woodside Mutual Aid [SWMA] empowers individuals in our neighborhoods to actively contribute and take care of each other.
Need help? For everything from food assistance to legal advice, click here.
Interested in joining SWMA? Get more information here or find an overview of our existing working groups from the June 13 newsletter. Think you can contribute to one? Is something missing from the list? Let us know!
For more, find us on Facebook, Instagram, and Twitter, or help us spread the word the old-fashioned way! And if you live elsewhere, find out about nearby mutual aid and community support networks here.
Cooling Assistance
As the temperatures rise, the New York City Human Resources Administration and ACCESS NYC have developed a program to help eligible households buy and install an air conditioner or fan. For more information and eligibility requirements, click here.
---
Complete the Census
The 2020 Census is happening now! Everyone living is the US is counted and all are able to respond online, by phone, or by mail.
Census results help determine how billions of dollars in federal funding flow into states and communities each year. And remember, when you respond to the census, your answers are kept anonymous. They are used only to produce statistics, determining where to build roads, hospitals, schools, and so much more!
To complete your census online today, click here. Or call, 1-844-330-2020.
---
2020 Voter Registration Deadlines
To register for the November 3 general election, applications must be postmarked no later than October 9, 2020 and received by a board of elections no later than October 14, 2020 to be eligible to vote. For more information on registering to vote, click here.
On Saturday June 27, several dozen members of the Sunnyside and Woodside community convened at a vacant lot on 45th Street & Skillman Avenue to make the community more self-reliant, protest real estate speculation, and to beautify and improve our space. They set up composting and a community garden!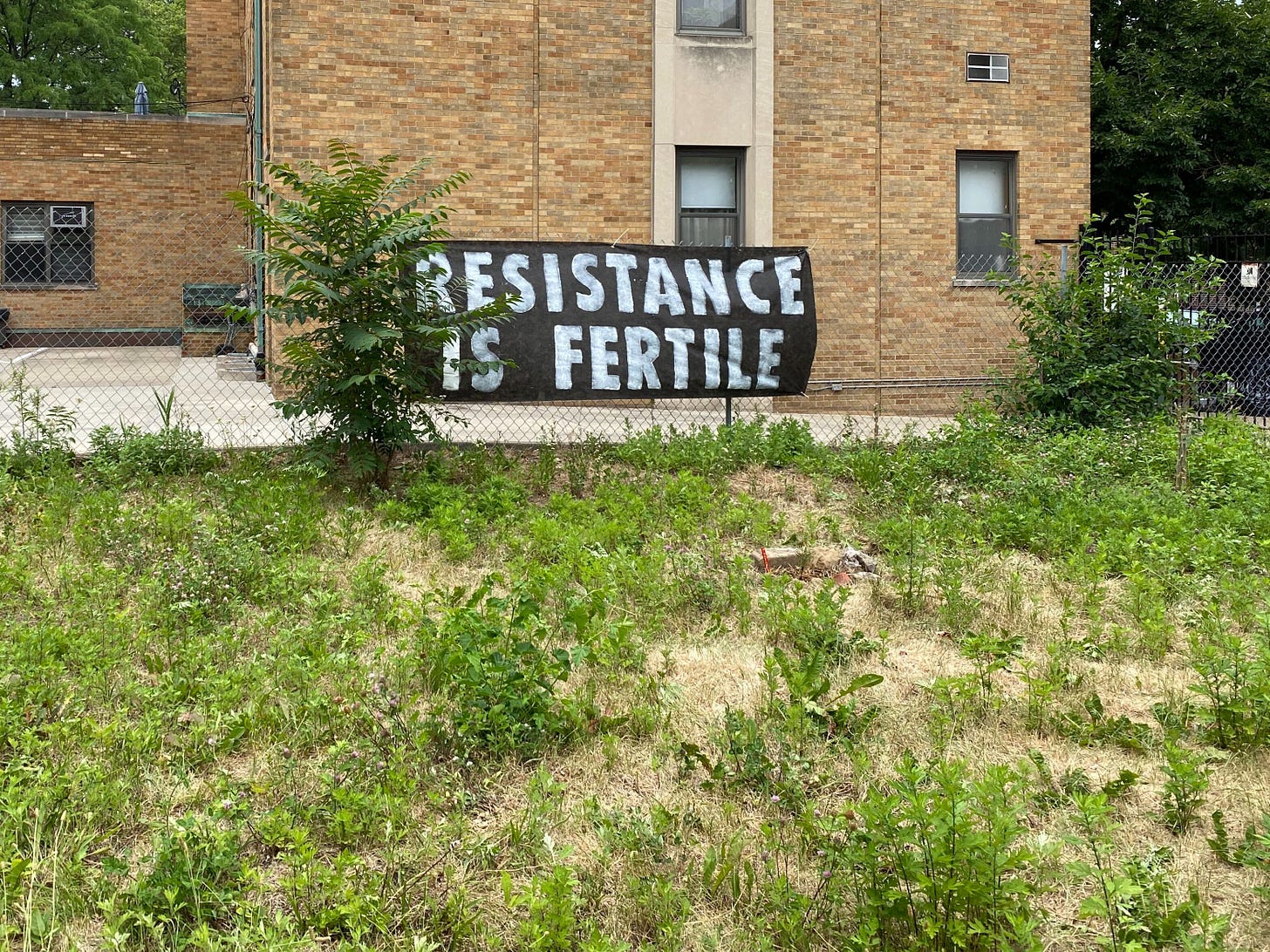 Vacant for a decade, with no change in sight, the community decided to take action. Organized by a group calling themselves Western Queens Guerrilla Gardeners, a dozen neighbors entered the lot and set up compost bins and began planting vegetables and flowers. Before long, word had spread about the new composting site, and dozens more neighbors showed up over the course of the morning and into the afternoon to share their food scraps for composting.
A passerby chose to inform the real estate investment company that owns the lot, and a representative arrived to discuss options with the group. After some heated conversation, the guerrillas prevailed, and there was agreement that the compost bins and beautiful garden would stay! More conversations will take place in coming weeks to formalize the arrangement, but this was a living example of asking forgiveness, not permission!
This action comes on the heels of the Department of Sanitation's cancellation of the City's composting program in the midst of the pandemic. Woodside & Sunnyside Composting offered to pick up the slack but has been inundated with demand. More composting was needed. Food scraps decomposing in landfills contribute to greenhouse gases, and composting is essential to the prosperity of our environment. Furthermore, community gardening has countless benefits, including improving the beauty of the community, benefits to mental health through tending the Earth, and the ability for a community to learn self-sufficiency.
This action is an experiment, demonstrating what is possible. Sunnyside already is fortunate enough to have a community garden; but other parts of the city have none, limited green spaces, and limited access to fresh food. This model of direct action for food justice illustrates a tactic that must be used to help those with fewer resources throughout New York. In a city as dense as NYC, unused land is a tragedy, and we are proud of our community for taking it upon themselves to effect change.
---
P.S. Don't forget, if you plan to protest, Amnesty International has developed a toolkit for how to do so safely and Mask On Zone has created an Anti Surveillance Protest Guide.